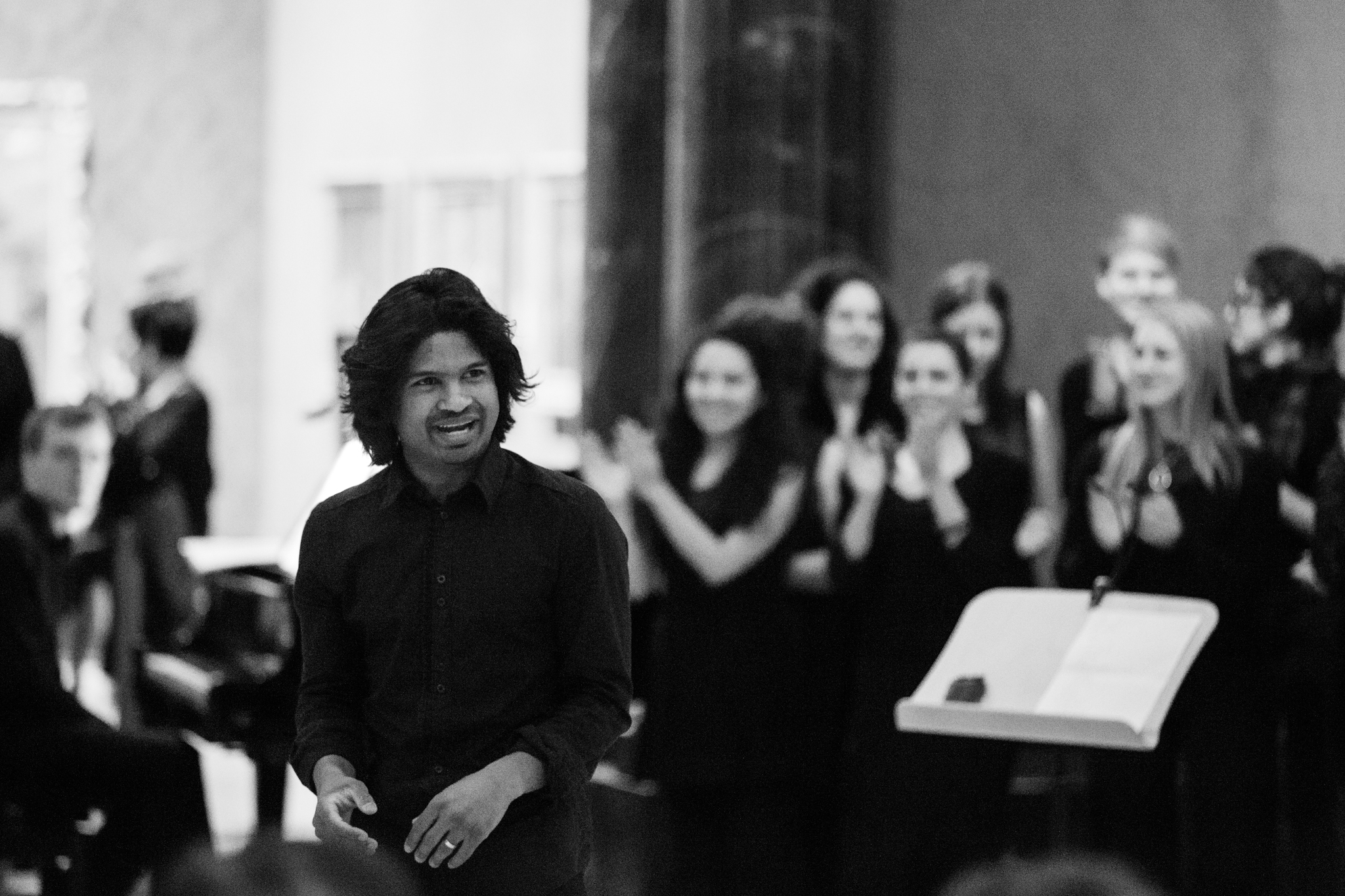 RECENT HIGHLIGHTS
Received the British Citizen's Award for Services to the Arts empowering communities through music, July 2018
Conducted NewYVC and 500 other youth on the Royal Festival Hall stage
Musically directed Nicky Siano's Hallelujah Gospel UK Tour (the Studio 54 legend)
Naveen Arles, MISM, BCA has established himself as an energetic and inspirational vocal leader and animateur. Immersed in music for almost 35 years, 25 years of which, he has been creating and running singing groups of all ages and abilities.
Nav currently directs various groups, including the leading youth choir in Newham, NewYVC (with Jane Wheeler of Living Song UK) and Grand Union Voices — the vocal unit of the acclaimed 30-year-old world fusion jazz big band, Grand Union Orchestra. Nav works with Liberty Choirs in prisons and has just taken up the role as Vocal Lead for Brent Music Service. For several years, he was Artistic Director of the London International Gospel Choir (LIGC), which under his leadership grew into a 140-member, two rehearsals per week performance choir now, performing regularly on all UK broadcast formats.
All these exciting projects mean that Nav has regularly conducted on the capital's major stages and at a range of venues, including the House of Commons and on the pitch at Twickenham during the Rugby World-Cup semi-finals. Due to his ability to create groups of singers rapidly and efficiently, Nav has provided vocal groups to the BBC, ITV, Endemol, Thames, Tuesday's Child and from conferences and retail events to studio sessions.
Nav's ability to motivate people to try music and train any group of people has meant he has led choirs from all aspects of society from board-level bankers to recently-arrived refugees. These experiences have opened the door to delivering regular training to organisations, such as the Pauline Quirke Academy's national programme, providing vocal leading and teaching CPD, to corporate empowerment through The King's Fund and their senior management development programmes.
Nav's strong belief in inclusion, equality and social justice has led him to work with homelessness and rehabilitation centres and he co-founded Sanctuary Voices for refugees and asylum seekers. After collaborations with the Brandenburg Choral Festival, Nav became their Fringe Director, putting together a programme of a cappella and small, non-choral ensembles for its year-round series. As someone who relishes the opportunity and responsibility to inspire the next generation of music makers, Nav is proud to have served  as Artistic Director for the Hertfordshire and Ware primary schools music festival, with over 500 young people annually. He has also facilitated vocal workshops for Music For Youth and worked with ARK Schools.
Nav studied piano with Murray McLachlan and Richard Beauchamp and gained valuable experience from staging musicals between Edinburgh and London. He later created the role of Musical Director at London Metropolitan University, founding all extra-curricular musical activity there. Sponsorship from the Southbank Centre's Voicelab initiative helped him further his conductor training and he is now studying to qualify as an Artist Teacher in conducting at the CME Institute, under Dr Doreen Rao.