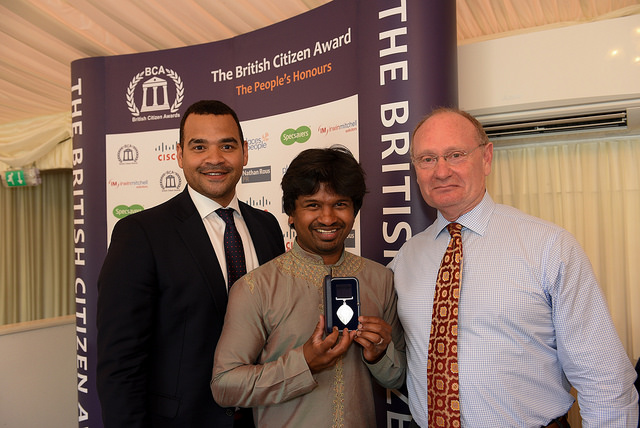 BRITISH CITIZEN AWARD 2018
Official press release
Naveen Arles of Newham, directs four choirs including the London International Gospel Choir (LIGC), a Newham Youth Choir and choirs in prisons. He is also the Fringe Director of the Brandenburg Choral Festival, putting together a program of a cappella and small, non-choral ensemble performances for its year-round series. Naveen has served 4 years as conductor to the Hertfordshire and Ware Primary School Music Festival and has just been announced as the Vocal Lead for Brent Music Services. Now he has been recognised with a British Citizen Award for Services to the Arts.
The majority of his work is voluntary and everything he does is for the people in various singing communities. He is an inspirational teacher, leader and endlessly patient diplomat. He encourages people to believe in themselves and to follow their dreams. He has provided opportunities for people to express themselves through performing opportunities both solo and in groups that they never would have thought possible. As a teacher he is vibrant, innovative and sympathetic to the students enabling children and dementia patients to break through barriers of silence and hundreds to find their confidence and voice.
Nav's belief in inclusion, equality and social justice has led him to work with homelessness and rehabilitation centres, and co-found Sanctuary Voices for refugees and asylum seekers. He has worked within music for over 30 years and overcoming his own obstacles in life, has never wavered from teaching, mentoring and nurturing performers in choirs, making a difference to hundreds of people's lives.
His longest and largest ongoing project, LIGC, is a community that is wholly inclusive embracing all faiths, cultures, sexualities and ethnic backgrounds and is one of the largest and most well-known non-auditioned choirs open to everyone in London. Being part of a choir helps overcome depression, isolation, low self-esteem and many illnesses.
The British Citizen Awards (BCAs) were launched in January 2015, to recognise exceptional individuals who work tirelessly and selflessly to make a positive impact on society. BCAs are awarded twice annually, and recognise 'everyday' people whose achievements may otherwise be overlooked.
Naveen is one of 29 medalists who was honoured at a prestigious ceremony on Thursday July 5th, at the Palace of Westminster. All BCA recipients have selflessly undertaken various activities in support of a number of worthy causes. Each received a Medal of Honour, inscribed with the words 'For the Good of the Country'. Medalists are also able to use the initials BCA after their name.
Speaking about his nomination, Naveen said: "I am truly surprised by the length to which people have gone to say thanks to me. Life can be such a difficult, lonely and scary journey and having migrated a lot as a youth, I know those pains. It seems natural to me to spend my energies saving others from these extra difficulties life can throw up. I believe singing together is magical not only because the music can be beautiful but because everyone involved is changed, lifted, loved and made safe for those moments of the music. Everyone. Singer, listener, or passerby. Music can offer the opportunities for so much, anything from finding your inner strength to removing barriers. I am simply a servant of my faith and of love for people and music is my vehicle for change".
British Citizen Award Patron, Dame Mary Perkins said: "Giving back to our communities is at the heart of Specsavers; vision and values, so we are delighted to support this inspirational awards programme. Each medal recipient has demonstrated a commitment to others that makes them the unsung heroes of our country and they thoroughly deserve to have a light shone on their selfless endeavours".
The awards are sponsored by the world's largest optical retailer, Specsavers; one of the largest property and leisure management, development and regeneration companies in the UK, Places for People; and worldwide leader in IT and networking, Cisco. Each had representatives at the medal presentation ceremony which was hosted by TV Presenter and host, Michael Underwood who stated: "Having presented the very first British Citizen Awards, it was a real honour to be invited back and a privilege to meet the incredible people being recognised for their contribution to society".